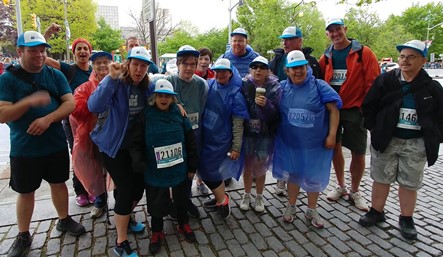 It's that time again to Run, Walk, Roll and Raise!! Join ABLE2 for the virtual edition of Tamarack Ottawa Race Weekend 2021!
This year run, walk or roll safely in your neighbourhood, around the city or wherever you deem safe for you! As this is a virtual event you can keep your own pace and do it throughout the month of May! Sign up for a 5K, 10K or marathon and track it through RunCoach.
During the month of May, the ABLE2 Team will be participating in the Tamarack Ottawa Race Weekend in honour of our friend, Ted Lamarche, who recently passed.
Rob Meredith and Ted Lamarche were introduced to each other through ABLE2's Matching program. Rob will be running in this year's race. Click here to see more of Rob and Ted's story explaining how valuable allies are to our friends and vice versa. This important story shares a friendship that blossomed from a volunteer and one of our friends.
An anonymous donor has agreed to match funds raised for this year's Race Weekend up to $5000!! Let's get going TEAM!!
We encourage anyone who is interested in participating and raising funds to reach out to events@able2.org or 613-761-9522 ext. 221.