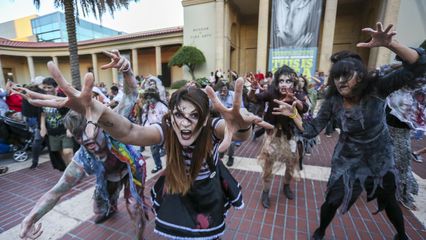 OUR VIRTUAL DANCES ARE BACK!
ABLE2 returns with our famous dances now live online on ZOOM featuring DJ Kelly. We will dance to some ghoulish songs, turn up the music and show off our funky and frightening dance moves. Join us in costume to begin your Halloween weekend!
Saturday, October 31 – 7:00 – 8:30 pm
Cost: $5 (eligible for Passport funding)
Tickets must be purchased in advance.
When you purchase your ticket you will receive an email with the Zoom link to join the dance.
This dance is suitable for people of all ages. For those under 18 years of age parental supervision is a must.
ABLE2 offers the virtual dance-a-thon as a fun recreational activity. Participants should understand that there is always a possibility of physical injury. Participants in our virtual dance-a-thon do so at their own risk. We do not moderate any chat conversations. ABLE2 accepts no responsibility for your actions.
BRING A FRIEND!
EVERYONE IS WELCOME!