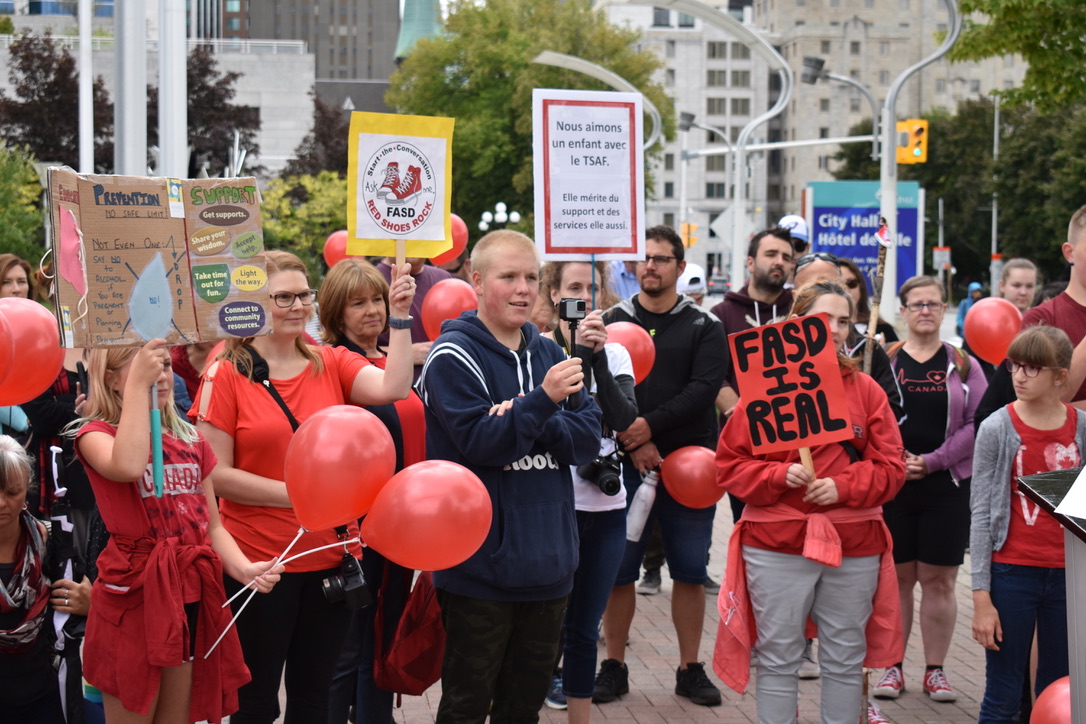 FASD Awareness Walk – An Uplifting, Fun, and Informative Walk to Celebrate People with FASD
Join us for a 0.9 km walk in downtown Ottawa in support of Fetal Alcohol Spectrum Disorder (FASD). The 3rd edition of this event coincides with International FASD Awareness Day that is observed all over the world on September 9th (the 9th day of the 9th month) to represent 9 months of pregnancy.
Over 100 people, including families and friends of people with FASD, medical practitioners, caregivers, local FASD program partners and media will gather on September 12th to spread the word about FASD, debunk common myths, highlight local support programs and resources, and bring hope for early diagnosis and intervention.
FASD affects +/– 1.5 M Canadians – There is no safe amount and no safe time to drink alcohol during pregnancy. We all have a role to play!
Event Details
NOTE: We are committed to providing a safe environment during this event and will be following public health protocols to ensure that any risk associated with COVID-19 is minimized. This outdoor event will comply with local and provincial guidelines that are in effect at the time of the event. The event is rain or shine – participants will need to plan accordingly and face masks are mandatory.
Who: People with FASD and their loved ones, medical practitioners, program partners and more!
Where: Parliament Hill & Ottawa City Hall (Walk Route)
When: Saturday, September 12, 2020 (10 am to 11:30 am)
RVSP: This event is FREE – an advance RSVP is required
Parking: Free weekend parking is available at City Hall Garage (110 Laurier Avenue West) or World Exchange Plaza (45 O'Connor Street)
Schedule of Events
9:45 am to 10:00 am Check-in/Onsite Registration for Walk Attendees (sidewalk on Wellington Street in front of main entrance to Parliament Hill)
10:00 am to 10:15 am Opening Remarks and Walk Kick-Off on Parliament Hill (at Centennial Flame)
10:15 am to 10:30 am 0.9 km Walk between Parliament Hill & Ottawa City Hall (Walk Route)
10:30 am to 10:45 am FASD Flag Raising featuring Mayor Jim Watson (invited) at Ottawa City Hall (Marion Dewar Plaza – Laurier Avenue W)
10:45 am to 11:30 am Closing Remarks and Grab & Go Snacks
What is FASD?
Fetal Alcohol Spectrum Disorder (FASD) is a diagnostic term used to describe impacts on the brain and body of individuals prenatally exposed to alcohol. FASD is a lifelong disability. Individuals with FASD will experience some degree of challenges in their daily living, and need support with motor skills, physical health, learning, memory, attention, communication, emotional regulation, and social skills to reach their full potential. Each individual with FASD is unique and has areas of both strengths and challenges.
Our Impact
The Ottawa FASD Awareness Walk was inspired by Red Shoes Rock, an international awareness campaign giving voice and support to those affected by prenatal alcohol exposure. Since 2017, Ottawa's FASD Awareness Walk has attracted more than 400 participants from the National Capital Region.
"What I love about the FASD Awareness Walk is the connections we make as families and caregivers who are loving and walking for our loved ones who are diagnosed with or suspected of having FASD. It is an opportunity to meet and get to know others who know what it is all about day to day"

Joyce Hamelin, Mother
FUNDED IN PART BY: